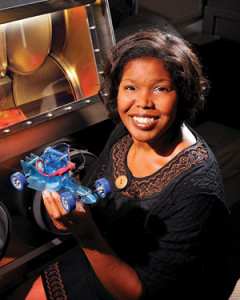 Innovative hydrogen storage research at Rowan University is paving the way for fully electric automobiles that may some day replace traditional gas-guzzling vehicles.
Recipient of the prestigious five-year $400,000 National Science Foundation Faculty Early Career Development (CAREER) grant, Dr. Tabbetha Dobbins, Assistant Professor of Physics and Astronomy, is investigating stable onboard storage of hydrogen for fuel cells to power electric vehicle motors.
"The question was, if this technology was going to go on board vehicles, how could we carry hydrogen gas safely?" Dobbins said. To this end, she is investigating how to convert hydrogen gas to a solid powder, heat the powder and release the hydrogen gas, while also examining the rate and temperature of release.
If successful, the research could lead to greener automotive options. "With this application, you get clean technology to run automobile engines because you don't emit harmful byproducts like carbon dioxide," she said.
A number of features drew Dobbins to Rowan, including its proximity to major neutron and X-ray facilities in Maryland and New York. "It helps me enormously," she said.
Furthermore, future opportunities also attracted Dobbins. "Rowan is on a growth trajectory, enabling researchers to perform world-class research at an undergraduate institution, which is very exciting," she said. In addition, the launch of the Cooper Medical School of Rowan University is a huge advantage for the biomedical projects she is planning. "I knew the medical school would bring a lot of useful input and collaboration to these projects."