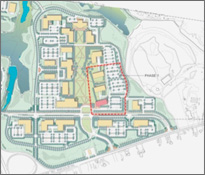 The South Jersey Technology Park is developing in stages. The location of the first phase of development has been established as part of the Master Plan; the location of future phases is flexible. Phase I is a 200,000 square foot cluster of up to three buildings, and related parking, access, utilities and other infrastructure. Access to the Phase 1 development is via U.S. Route 322.
Phase 1 building heights, dimensions, and internal organization are flexible. Buildings can be organized as multi-story multi-tenant flex buildings, multi-story office/research buildings, or academic structures. Zoning for the site permits buildings up to five stories.
Images from the Topping Off Ceremony and completed phase 1 project:
The Samuel H. Jones Innovation Center is the first facility of the Phase 1 Project.